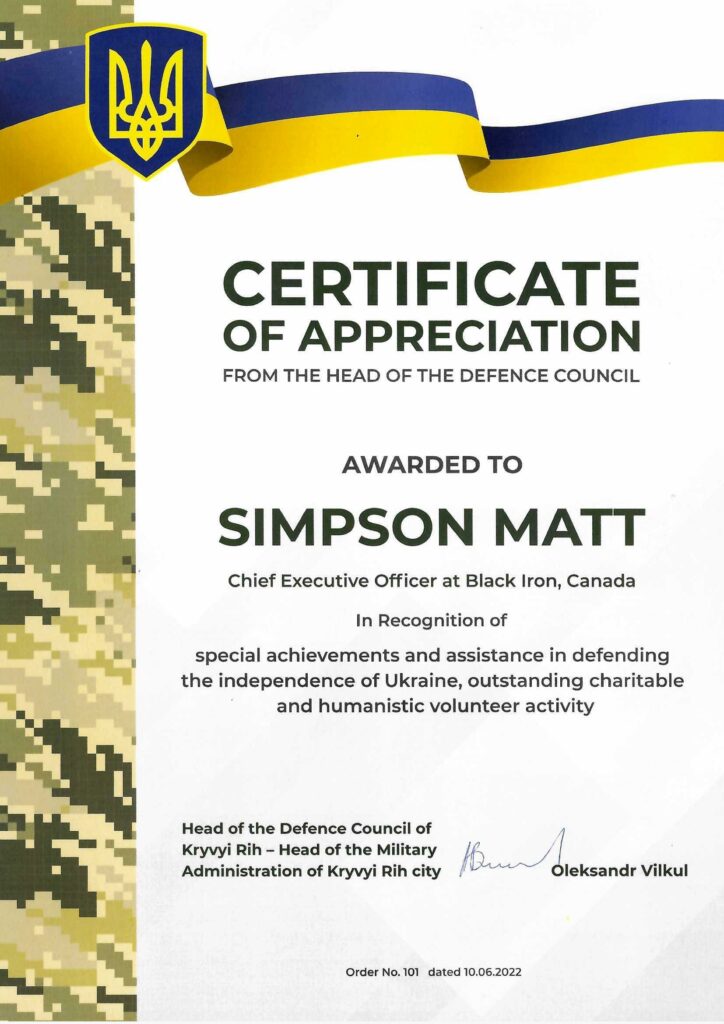 SUPPORTING UKRAINE
Black Iron has been proactive in Ukraine to support its local community. We believe Ukraine will prevail as a stronger united country and look forward to constructing our Iron Ore project so the high purity low emission steel produced can be used in rebuilding the country.
ABOUT OUR COMPANY
Black Iron is a TSX-listed company based in Canada. Black Iron is currently advancing it's 100% owned, high-grade iron ore project in Central Ukraine to production.
ANNOUNCEMENT
Black Iron Continues To Progress

Project Development In Central Ukraine

February 22, 2022
ABOUT OUR IRON ORE
Black Iron's high-iron content (68% Fe), low-impurity, premium magnetite pellet-feed concentrate reduces green house gas emissions by ~30% as compared to our peers.
What is Iron Ore used for?
Iron Ore is the critical ingredient needed for sustainable energy infrastructure. High iron content grade results in increased steel blast furnace efficiency and lower steel production costs.
Iron ore is an essential component of producing Steel, which is used to build everything from bridges and buildings to automobiles, bicycles, and windmills. This makes Iron Ore essential for sustainable infrastructure development well into the future:
The average wind turbine is made of 80% steel on average (140 metric tons).
Steel is used in the base, pumps, tanks, and heat exchangers of solar power installations.
Electrical steel is at the heart of the generators and motors of electric and hybrid vehicles.
Black Iron Ore Stock Price
See our most recent stock price below, updated hourly.
Iron Industry News, Updates & Analysis
Black Iron News & Media
Black Iron News & Updates
Subscribe now and be the first to receive project and company updates.